Winner Of The Big CES Technology Show Is Revealed! (and it may surprise you)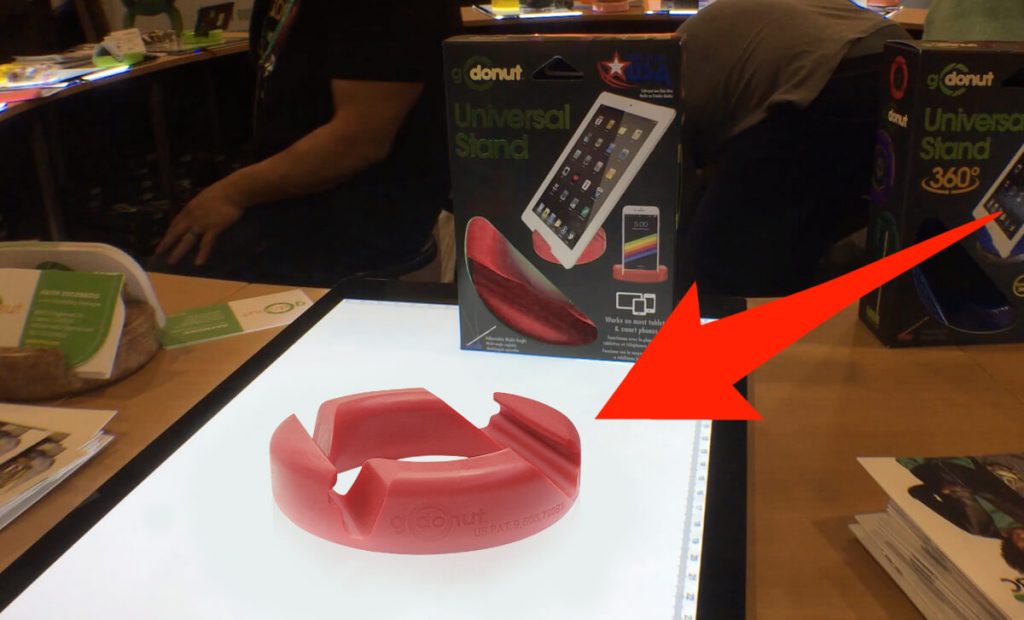 WOW – I was knocked off my feet when I went to Consumer Electronics Shows (CES) this past year. Imagine 170,000 attendees at the world's biggest tech event – where self-driving electric trucks and 4D cameras from all the big companies are revealed for the first time. 
And yet, despite all the innovation at the conference, one item stood out to me. 
This one item, which costs less than a few Starbucks latte's, went on to win one of the most coveted CES awards by a landslide, the TWICE Picks Award, and seemingly overnight has already sold more than 500,000 units since its reveal.
It also caught the attention of several celebrities during the Golden Globe Awards including the legendary movie director Spike Lee, Modern Family's Jeremy Maguire, and Anthony Anderson, the star of the hit show Blackish. 
But that's only part of the reason we're so excited about this brilliant new invention called the GoDonut.
This small and simple donut-shaped device packs a huge benefit – the freedom and flexibility to enjoy all your mobile devices, completely hands-free. And after using it for several weeks after the big event, I honestly can't believe I ever lived without one.
I know what you're asking: Huh? What's a GoDonut?! If you haven't heard of it yet, you surely will soon. Let's check it out… and hey, you heard it here first!
GoDonut is a revolutionary phone and tablet stand that makes it easy to enjoy your mobile devices anywhere, hands-free. 
It's truly universal so it's compatible with 99% of mobile devices, even ones that haven't been released yet. That's because GoDonut has built-in flexible grooves that fit everything from small phones to massive tablets. 
These grooves hold your devices 6 different ways – giving you the best view possible no matter where you are or what you're doing.
Each angle can be viewed in either portrait or landscape mode:
Portrait mode (tall) – Ideal for web-browsing, reading, hand-writing, and video chatting.
Landscape mode (widescreen) – works best for watching movies, playing video games, drawing and more.
Switching between portrait/landscape mode takes a second while finding the best angle in that mode takes another one. With GoDonut, you are always two seconds away from your best viewing angle.  
There are 3 different viewing angles to choose from: 45° / 70° / 90°
The 45° and 70° angles let you use your phone as you normally would, perfect for counter/table-height viewing to help me master my chocolate protein cupcake recipe.
During the day you can find it holding up my phone or tablet at my desk using the 70° and 90° angles – it's like having a second monitor which improves my productivity while I'm at work.
I also let the kids use it on the weekends to binge-watch their favorite Netflix and Disney+ shows.
Because the stand is weighted, it can safely handle portrait or landscape mode, without fear of your devices toppling over no matter how big they are. Whether you're reading, watching, swiping, typing, or drawing, you can be 100% certain that your device will stay right where you want it.
Bonus: GoDonut is also great for videography and FaceTiming since it provides a solid base without interfering with your device camera. You can also do this by standing it upright!
One of the best parts about GoDonut is that it works right out of the box! Simply place the GoDonut on any flat surface, and insert your phone or tablet into one of the grooves.
That's it, there's no setup or assembly required!
Within seconds, you can use it for reading, watching videos, and taking calls hands-free – easily adjust the angle of your device for any situation.
What makes GoDonut so unique?
Despite its deceptively simple appearance, it is now considered the best portable device stand because of all the unique benefits it offers:
GoDonut's patented design provides a non-slip and weighted base to ensure your device is 100% secure at all times. It also uses heat resistant and waterproof material so that you can use it at the beach while bingeing your favorite Netflix series or throw it in the dishwasher for a quick clean.¹ 
GoDonut is virtually indestructible and has been tested to hold up to 33000 pounds without breaking. This thing could seriously last you forever.
And because it fits in your pocket, traveling with it is a breeze. 
For those who travel with kids, you'll be pleased to know it's BPA free and not made with any known toxins or have any sharp edges. And YES, MY KIDS LOVE IT by the way.
If you're case-happy like I am, the flexible material gives a bit for a snug fit with bulkier cases so you don't have to worry about removing them before placing your device on the stand.
So, who's the genius behind this thing?!
Despite what you might be thinking, GoDonut wasn't created by a large tech company like Apple or Samsung who SHOULD have been thinking about this stuff.
Nope. GoDonut was created by two young entrepreneurs Raymond Alonzo & Nina Seyedabadi. 
In high school, they were just kids, young entrepreneurs with a lofty idea: to build a deceptively simple, yet life-changing, device stand that anyone can use and would last a lifetime. 
They quickly patented the idea and it wasn't long before they began winning all kinds of awards and selling thousands of units almost instantly.
Where can I get the GoDonut?
Since winning the TWICE Picks award at the CES convention in Las Vegas, demand has skyrocketed. To date, GoDonut has gone on to sell over 500,000 units worldwide and is quickly becoming one of the fastest-growing phone stands on the planet. 
Due to popular demand, it's currently out of stock.
UPDATE: GoDonut Is Back In Stock (For Now) – Here's Where You Can Try It For 30 Days
Thank you for your responses – clearly a lot of you are tired of holding your phone up in the air! I'm happy to point you in the right direction.
The creators of GoDonut are currently running a special promotion – for a limited time, you'll get 1 FREE GoDonut when you buy 2. We don't know how long this will last, so definitely act now to take advantage of it!
GoDonut is one of those products that I never knew I needed until I tried it. It's so simple, yet extremely useful. Anyone who uses their phone or tablet for at least a few hours every day will fall in love with it instantly.
This is one of those items that you may not have realized you needed until it's in your possession. I was given a red one (love the color pop) as a gift and now I can't imagine my life without it. I use it all over my house. I have a newborn baby and during those late night feedings I place my phone in it to watch YouTube's (mostly on how to take care of a baby) and have both hands free to tend to my little guy. I also use it for workouts (stretching/yoga) rather than having to prop my phone up against something random like I used to. It's durable and super easy to use with your phone or tablet. I recommend getting two for yourself and one for a friend!
"Don't Hesitate To Buy This Product!!"
I recently ordered my GoDonut phone accessory and have been using it non-stop since it arrived in the mail! It works just as it is advertised and is a convenient, portable size. I do a lot of cooking, and this product is ideal for positioning my phone to easily read recipes and navigate between webpages without setting my phone down on a dirty counter. It's also great for Netflix binges and swiping between songs on Spotify. Highly recommend this multi-purpose product, 10/10! 🙂
"Sturdy, simple and not stuck to my phone."
This is a nice and simple sturdy external stand that fits a variety of my electronics. My daughter immediately took it from me and is enjoying it for her kindle fire. And I will appreciate it for my kindle paperwhite (as soon as I charge it.) it also works great as a stand for my google pixel 3. That is of course if she let's me have it back! The donut itself is very sturdy feeling and has a nice non slip rubber coating, with two angles to fit your needs best. I like the fact that it's not permanently attached to my devices. I know I'll be using mine in the kitchen to read online recipes and while I'm crafting for hands free instruction videos.
"I use it nearly every day!"
I love this stand! The design is very sturdy and stylish, the color is bright and attractive. This is much better than other stands I've bought in the past that are flimsy/not versatile. I will be buying more for my family members and for gifts!